UNIQUE IMPORTATION IN PARTNERSHIP WITH KIMP SERVICES PRESENTS A FREE ONLINE TRAINING ON PROCUREMENT/SHIPPING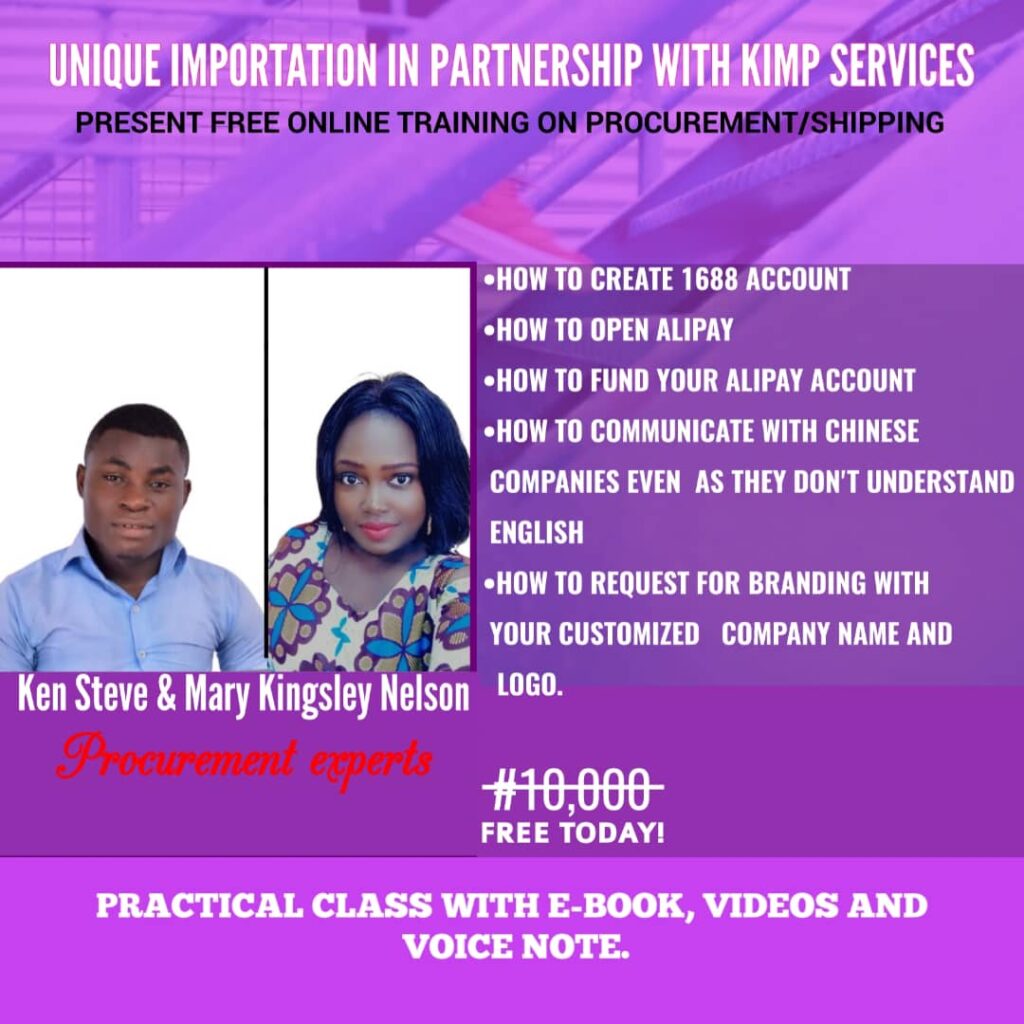 Mini importation is one of the oil well business one can actually start with a very low capital and scale up higher in few months
This remain the fact as long as things are very cheap from Chinese stores, most trainers and shoes we buy here in Nigeria at 7k are sold there for less than 2k
Everyone know this is true as  thought by many masters but when started, they find it difficult to make 100% profit as expected,
Research carried out by importation experts from these two companies have shown clearly that;
Buying through agents

makes importation very costly to importers while agents get double profit, [they charge you for agency fee while they still negotiate the price with suppliers and get a huge discount].

Inability to pay for your orders direct

leads to the high cost of importation since an agent can increase the rate of yuan at any time: We noticed that the rate of Chinese currency equivalent to Nigerian naira these agents give depends on how they want to fix and you have no choice, if you are not making direct payment by yourself.  This is doubtlessly true because different agents give different yuan rate on the same day which means they can change the price at their own will quite different from what google gives.

Lack of cheap and reliable logistics company:

Logistics or shipping companies have a greater impact on your importation business positively or negatively depending on their policies and cost, that's why you need a shipping company with good policies and cheaper cost if you must succeed in the mini importation business.

Inability to register on 1688.com

or Taobao and navigate through the website to enjoy discounts and free local shipping; The prices you see on 1688.com, Taobao, or Alibaba website is cost price and not selling price depending on the quantity of a particular product you want to buy, the shipping fee is also estimated not the actual fee.      However, you don't have access to these unless you register and become part of the market to enjoy all the benefits

Unable to get suppliers and manufacturers' contacts

and negotiate prices with them: These Chinese stores have many manufactures and suppliers of similar products and therefore the price is very competitive, a lot of suppliers and manufacturers in these Chinese stores are always willing to give a discount and offer free local shipping if you have access to talk to them but getting their contacts is always an obstacle for others.
Having overcome all these challenges, the two Importation experts from these companies partner together to train people who want to become procurement agents or may intend to start mini importation in a profile way and scale up higher within few months of starting
do you need a proof on how buying yourself is profitable
It's amazing right? 
Having Overcome all the challenges above and becoming a successful importers, 
Unique Importation in partnership with of Kimp Services Lagos announce free training for those who want to become procurement agent or may want to start up importation in a profitable way  and scale up higher within few months of starting.
Here Is What You Are Going To Learn
How to register free with 1688.com and Taobao where you will become part of the market and enjoy all the benefits.
Open or get a verified Alipay account and start buying directly from Chinese manufacturers and suppliers all by your self.
How to Chat with Chinese companies even as they don't understand English. (using google translate).
How to negotiate the price of products with sellers on 1688.com or Taobao.
How to make payment direct to Chinese Suppliers without anybody charging you for transaction fee.
How to navigate through 1688.com like a pro, even if the site fails to translate.
How to get suppliers contacts and build a good and long-lasting relationship with them
How to use your Alipay account and procure goods for others while you collect your commission.
How to start your importation with little or no money (100% real)
Expensive mistakes one must avoid while shopping 1688.com or Taobao.
Fast and Cheap shipping companies that can ship your goods from China to your location.
Is this training for everybody
NO!
In as much as this training is free
it is not meant for:
People who have the mentality that every opportunity online is a scam but can get girlfriends and boyfriends online.
People who can't make a decision but keep procrastinating all the time.
People who always click on every advert they see but cant apply for once.
Those who have too much pride and think they are above learning.
People who are always looking for Ponzi schemes, don't want to work but get money.
People who enjoy sitting idle only complain that the government is not offering jobs.
Why are you offering such training worth thousands of naira for free, is there any hidden agenda behind?
No
Many entrepreneurs/businesses experienced series of setbacks last year due to covid-19/EndSars protest
And this is why the two companies in partnership have come to help.
I am a slow learner, is there any possibility that I can cope up if I join the training?
YES
This training is online but contains videos, e-books and voice note that explains everything in clear terms, so it doesn't really matter whether you are a newbie.
Can I see you one on one?
Yes
Unique/Kimp brand makers is a team that offers one on one training on digital marketing, Website development, Mini Importation, Multi-country Importation, email marketing as well as consultations in all the fields above 
Apart from the services mentioned above are there any other services we can benefit from you?
Yes
We offer nationwide e-commerce delivery services as well